The start of something.
It began when I created a painting for a friend's baby shower gift. She requested two more paintings to go along with it, and I had so much fun doing it. These creations were what inspired the start of designing and illustrating animals and nature scenes that have a lighthearted, playful, yet modern and minimalist aesthetic.
A glimpse into a kid's world.
Over the last year my husband, a photographer, and I were tossing around ideas on how we could collaborate. He had taken photos of our nieces and nephew on a white backdrop, and what really struck me during the shoot is how playful the kids are — naturally. Kids play. Kids don't naturally sit still in front of a camera. They have wildly imaginative minds, and way too much energy for an idle portrait.
Portraits — with imagination.
Out of these ideas, the Storyscapes concept was born. At the heart of each creation is the goal of capturing a child's imagination and playful nature.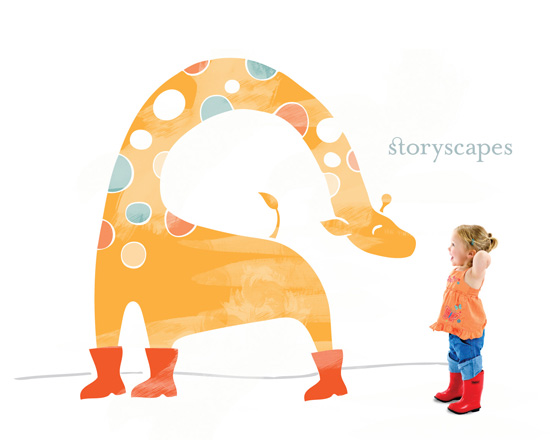 Above: Sage's mom brought along a few outfits for the shoot, and these crazy cute red rain boots, which became the playful visual that brought the whole piece together.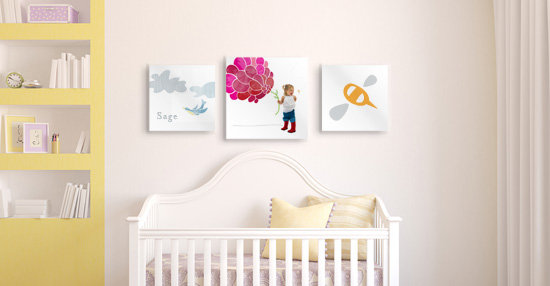 Above: A grouping of the high-quality canvas prints adds a cheerful, colorful yet modern touch to a child's bedroom or nursery.
Spreading the magic!
We just launched the Storyscapes website this week, along with the Facebook page. Soon to come will be some sort of online ordering system for prints. So far we have gotten such wonderful feedback — thanks to everyone for your support! Our best advertising is word of mouth; thanks for spreading the word.
See more at www.storyscapesart.com
Like it?
Help us share our new adventure by liking Storyscapes on Facebook.