What do I do?
People often ask me what I do. I always find that the phrase "Graphic Design" doesn't really mean much to people, and I can see why. It's vague. The words by themselves can mean a bunch of different things. So today's blog post is in hopes to illustrate some of what I do.
Is your company cool? Smart?
People are making judgement calls based on your brand. Brands need to reflect the true image of your company. A brand encompasses the entire personality of a company — from how the logo and website looks, to people's perception of the company. In today's virtual marketplace filled with stiff industry competition, it's a necessity to be up to date. People are spending a ton of time online. Now, more than ever, people make their choices based on a company's brand, or  image. If your company's look is lagging behind, people notice. It reflects on your business (are you lagging behind in your business, too?)
A Fresh Look at… Senior Housing
I worked on this "brand makeover" while I was at Azul 7, a design agency in Minneapolis. Ecumen came to Azul 7 needing a new website, which we redesigned first. In a nutshell, the redesign was the online equivalent to a home remodel. Or a wardrobe overhaul. Most of the site's content was staying, but the site was in need of a refresh and some reorganization. Especially to reflect the fact that Ecumen is an industry leader in the concept of changing the perception of  aging and senior housing. (Read more on their blog, Changing Aging.)
It became clear that redoing the website wouldn't be enough. We would need to refresh the entire brand: logo, photography and color palette. In other words, we would bypass the new coat of paint and rip out the walls instead. The whole look of Ecumen would be updated.
It was a large project that lasted over a year. Some of the things I worked on over the course of this project were: Brand nomenclature, logo redesigns, website information architecture (or "IA"), photography (of a couple the Ecumen campuses, featured on the new website), website design, and brand guidelines.
Ecumen logo before: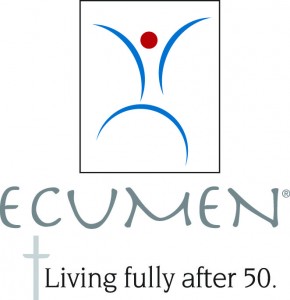 Ecumen logo after:

Ecumen website before: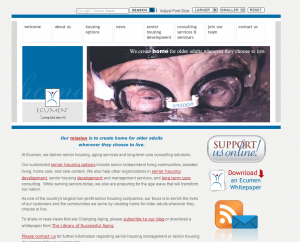 Ecumen website after:
An up-close detail:
I took a variety of photographs at different Ecumen facilities to use throughout the website: